Sandeep Chawla from dutch ad agency Cloudfactory visited Sustainable Brands 2018 in Canada and hand-picked 7 cases that proof that sustainability will lead to human and economic health and vitality. Here is Sandeep's take on the trip. 
'SB is a global community of change makers and thought leaders who are shaping the future of commerce worldwide, with the mission to inspire, engage and equip today's business and brand leaders to prosper for the near and long term by leading the way to a better future. And this blessed band of brothers is no longer a select few.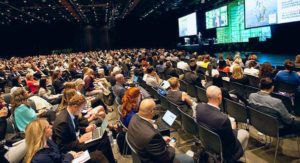 Last month, over 2000 of these change makers, thinkers, doers and dreamers gathered in Vancouver to prove business can lead the way. To inspire and equip brands to embed social and environmental purpose into their core to protect the survival of their business.
Since, don't we know it, consumption for the sake of consumption is the ideology of a cancer cell.
OVERWHELMING
There was a lot to take in. And a lot to filter. The mind boggles at the staggering scale and complexity of the web modern civilization has woven… where do we even begin, who does one listen to?
Getting off the plane, I braced myself for an ever-spiraling list of troubles, complexity and conflicting opinions, competing benchmarks and the quicksand of a myriad standards, scattered actions, and an army of doomsayers, sensationalists, provocateurs, and harsh piercing facts and stats.
All life on earth is made up of 82% plants, 13% bacteria and 5% everything else – humans make up 0.01% of all living organisms, yet we have destroyed 83% of all wild mammals and half of plants.
A third of the food produced for human consumption every year gets lost or wasted.
86% of plastic packaging is used once and thrown away.
Why is it that we know more about space than about the oceans?
But once you get past the door, you realize all the sloganeering and cynicism has been left outside. The provocations were mere springboards to leap into real authentic stories, to beautiful positive action and partnership. The mood inside was refreshingly positive, forward-looking, collaborative, action-oriented. Though in a perverse sort of way, I took delight at how this audience's response to fluffy marketing videos, merely showing intent rather than action, was palpably cold. Things won't change on good intentions alone.
And that's where our creative community of communicators can play a big role, in unleashing the power of brands to make sustainable lifestyles desirable and mainstream. We can direct our skills to influence and transform culture towards a world where consumers crave and demand sustainability. Through co-creation and storydoing.
An ever-growing number of brand owners are leading by example, walking the talk, doing their story rather than just telling it. Ever more conscious that if brands did more and talked less, people would love them for it.
And SB18 was a wonderful mix of bold new startups and big established brands treading bold new ground. Here's my list of heroes…
The path-breaking partnership between Biomimicry 3.8 and Interface that conceives and creates "Factories as Forests" https://biomimicry.net/the-buzz/news/the-factory-as-a-forest! Biomimicry 3.8 is helping global carpet manufacturer, Interface, redesign their facilities to be restorative entities that mimic nearby ecosystems. Interface's higher goal is to bring this ecosystem-driven approach to design into the product themselves too: they seek to create products that sequester carbon, that require them to pull carbon out of the atmosphere to produce the material. Just like a forest.
Factory as Forest: The Methodology, Measurement and Implementation behind a Move from Zero Footprint to Positive Impact
REI's #optoutside campaign that forces you to reflect on how, without realizing it, we are becoming the world's first indoor species. 95% of our lives is spent indoors. That's roughly 70-some years. Think about it, how many of us spend more than an hour outdoors every day?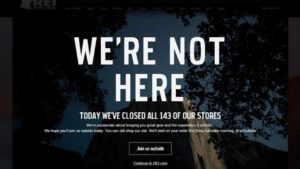 IKEA and a string of extraordinary announcements: from promising to stop selling single-use plastics by 2020, to pledging to use only renewable and recyclable materials by 2030, to trials of its furniture take-back/reselling program in Australia, to healthier more sustainable food in its restaurants!
Uber's competitor Lyft, the kinder, gentler, socially conscious ride-hailing company, and its culture of kindness and inclusion. From offering free rides to people attending anti-gun rallies across 50 US cities earlier this year, to incidents of national disaster "when our drivers showed us the way", geofencing affected areas and opening up free rides to hospitals. In fact, while Lyft "braced for pain" after its action related to the Muslim travel ban, it found that it actually experienced "the glow" of people saying that is exactly the kind of brand they wanted to align with.
TangoTab, a socially-conscious marketplace that connects diners with restaurants' empty seats. So, every time you check in at a partner restaurant, a free meal is donated to a person in need. Brilliant. When you eat, they eat.
When You Eat, They Eat – TangoTab featured on Fox 4 in Dallas
The raw and inspired classroom by Jonathan Atwood, VP of Sustainable Business & Communications for Unilever, on the power of personal purpose in rallying employees towards a shared purpose in business. Connecting people to their purpose enables them to bring their best selves to work, which is good for business. You could not have planned for the moments of pure open honesty that flowed at the end of this session, as Jonathan led by example, his own story and confession inspiring everyone to come forward, proving how these crucible moments in everyone's lives had a big role to play in the work-life choices we've made. Lean into fear and show your authentic, he said. See how liberating that can be, the sense of freedom and license to be who you really are, focusing on the issues that matter. After all, we all want to be part of something that's going to change everything.
And finally, a young man whose "dates with the ocean" moved minds and mountains in my old home town… Or as The Guardian wrote: 'Hatchlings from a vulnerable turtle species have been spotted for the first time in decades on a polluted Mumbai beach that was rejuvenated in the past two years by a massive volunteer cleanup operation. Change is possible!
After thought:
Our marketing communications community was conspicuous by its absence, or should I say under-representation, at this forum. That hás to change. I refuse to believe there is anyone in our industry not fired by the tearing need for responsible business and conscientious consumption. We should be rallying around more folks like these. They are our new oxygen.
One day, we'll ALL IN DEED be standing on the shoulders of these giants.