The article 'Most creative work is do-good fata morganas' drew my attention. It appeals to my experience as an architect, referring to a project [my firm] did to help one man and his son.
Two men were forced by their municipality to leave a square in town, where they repaired bicycles for 25 years in their self-made kiosk (poor architecture). By being there (and getting out of my office) I have seen the importance of their presence on the spot. They had the priceless value of ab collocutor for a lot of people who did not have any other place to go. Or who, let's say, live a less 'successful' life.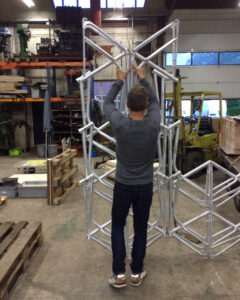 Mr Mintjes (the name of the senior) asked for my help to deliver a kiosk with hardly any budget. I accepted the assignment and focus on getting materials for free. A big bicycle firm in the same town (Heerenveen) donated 600 un-assembled brand new frames. This was waste for them, to turn back to an aluminium smelter. By just doing and not stopping, we managed to convince the municipality to create and deliver a kiosk for the two men with a surprising circular design for the bikes. At the same time, this addressed the vitality of the town. (Ice skating town in Thialf/Soccer/bicycles big industrial Batavus). Now they continued their work on both sides of the coin. Repairing bikes, generating an income, and doing the important social work; which they themselves don't even see the value. Here is the full project. https://www.vector-i.nl/cycle-celebration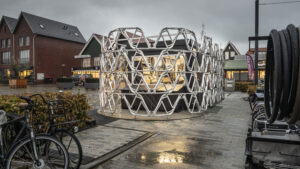 Author: Ben van der Meer
Architect and idealist and vice versa
Groningen, The Netherlands.
All images supplied.