The sought after D&AD Impact Pencils were recently awarded in New York and they live up to D&AD's reputation: They are the industry's most difficult award to win. Check out the winners and see if you could have done better.
Denmark was present with just a few projects: Gorillamedia Agency and a project about what it means to be Danish. A question that becomes more and more relevant in an increasingly racist Denmark. And Fjord Copenhagen, who were the other Danish contribution; they received two D&AD Impact Wood Pencils in the categories 'Financial Empowerment' and 'Community & Interaction'.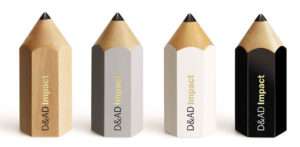 Lipstick on a pig is not enough!
D&AD Impact was launched 3 years ago as a follow-up to White Pencil to bring along a greater focus on the real difference that good initiatives can make. You can call it a kind of Effectiveness Award for impact.
Since all the agencies and brands these days are flocking to good initiatives like bees to a honey jar, it's time the discussion moves on from putting lipstick on a pig to what real difference our works are creating.
We as an industry are not only in competition with the advertising agencies on Madison Avenue, but nearly 8 billion people who each have their own idea of ​​how the world can be made better! I've been part of the D&AD journey all the way from White Pencil to Impact, and while I'm excited about the advertising industry's growing interest in impact projects, the gems are few and far between.
Diversity breeds ideas like rats
The jury panel was more diverse than ever before and advertising executives occupied fewer seats than ever. Instead there were venture capitalists, NGOs, entrepreneurs, global brand CMOs and everything in between.
With the massive changes our industry is undergoing, as well as the business and sustainable challenges that brands face, it's naive to believe that the same tools and heads can be used.
Perhaps it is time that we in the industry invite differences inside and hire differently. Perhaps the old fisherman knows a better way to solve the challenges of the world ports than an art director dressed in all black who hails from the same advertising school as everyone else? Diversity breeds ideas like rats.
You and your idea against 8 billion people's ingenuity
One of the new initiatives this year was an Impact Accelerator that is open to all – not just industry leaders. And there was not only the glory and honour to win but the opportunity to take a money pool home to further develop the project as well as the opportunity to meet with and receive advice from the jury panel.
So dear colleagues, let's bring out the ambitions, the courage and the big dreams! If we as an industry want to have any role to play, we need to look at the long game rather than chase the next pitch, the next sales result, next campaign's click rates. We simply need to be better at working together with our clients, look beyond the advertising briefs and instead aim at solving real marketing issues.
Ideas are free, sweat is missing
There are simply too many empty advertising calories. If we are to create future-proof brands it requires the engine room to be end-facing and a solid, sustainable platform with clear goals for what the company not only wants but also does – how they act.
As an industry we should be able to raise the bar and get people talking about what matters such as materiality, circularity, net positivity and resilience to name just a few. Instead, we as a creative industry have shrunk to be an assembly line of jokes. Many submitted ideas in the Impact category lacked substance and real change. Ideas are simply not enough, they are free to get. Real change demands  blood, sweat and tears.
It's about creating sustainable businesses and we're failing as an industry. The many entrepreneurs I met through the D&AD Impact Accelerator did not just have a good idea. They were on a mission to spread them in the world! One example was Goodsurfwax from Queensland who opposes the surf industry's major surf wax brands that release microplastic particles into the oceans, Their product is instead made of beeswax from local beekeepers.
For these entrepreneurs, it's not just a good story – it's a better product. And their zeal to make a difference is contagious. It's not an add-on purpose, but a fundamental belief in doing things differently, in creating a different world. And is that not what we as a creative industry should aspire to? To dare to change the world?
The challenge is yours for next year's D&AD Impact Awards.
5 Tips to Create Impact:
Think business models like a Warren Buffett on speed

Invite differences inside, hire a farmer

Ideas are not enough, sweat & tears are needed

Create partnerships between agency and brand

Think long-term, think scalable